Description
Many people don't know is that you can buy telegram members to make your channel more popular. By increasing the number of members in your group, you'll be able to attract more attention and grow your business or organization faster.
Also we have trial of 50 free members to show we are legit.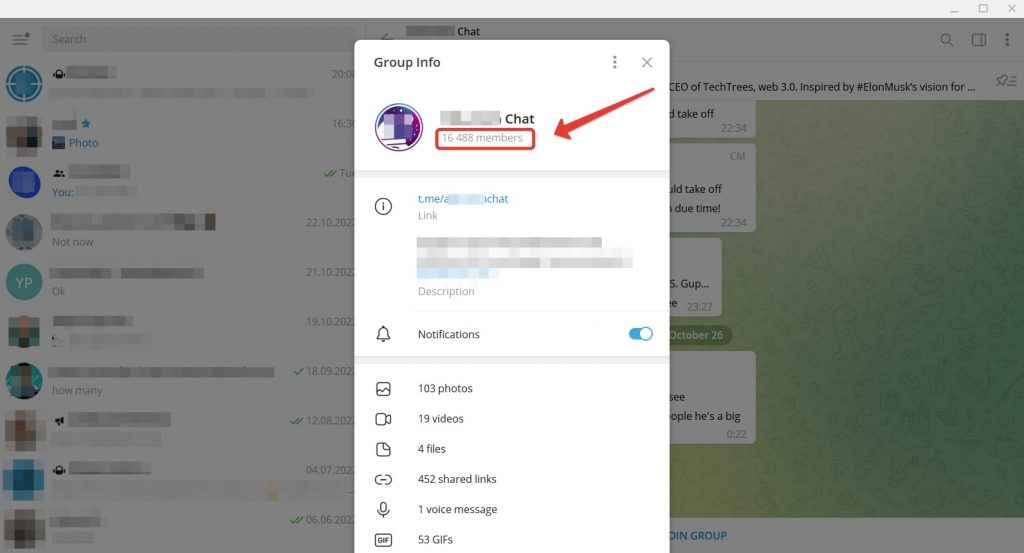 Above, you can see a sample of Telegram channel with upvoted subscribers using our service.
Buy Telegram views

Views are an important metric for measuring the success of a Telegram channel. The more you have, the more people are seeing your messages and engage with your content. This means that if you want to become your community popular, it's necessary to buy them.
When you get views, you're getting targeted traffic that is interested in what you have to say. This means that not only will your group grow more quickly, but you'll also be able to reach a larger audience with your message.
So if you're looking for a way to promote your Telegram group and reach more people, buying views is a great option.
Buy Telegram reactions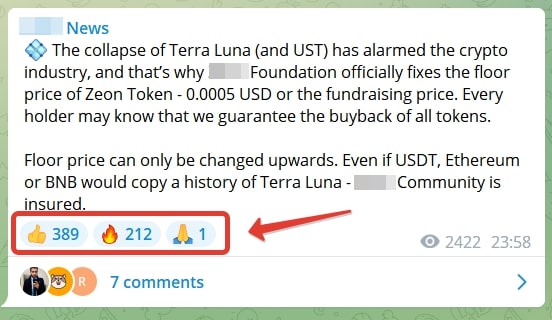 Telegram reactions allow you to show your appreciation for someone's message. You can use them by clicking on the smiley face at the bottom of the message. There are a bunch of different reactions that you can use: thumbs up, thumbs down, laughter, surprise, anger, love, etc.
Here are three reasons why should you buy telegram reactions:
This way you can ruin the reputation of your competitors.
It demonstrates whether the audience likes the content you publish or not.
To sum up, It shows that you're engaged in the conversation and care about what's being said.
FAQ (Frequently Asked Questions)
1. Why need to buy Telegram members?
It can help you attract new customers or supporters. When potential customers see that your channel has many members, they're more likely to join. And when potential supporters see that your group is growing quickly, they're more likely to become active participants.
2. How to add Telegram members?
Upvotebro is a website that allows you to buy telegram members. All you need to do is select the package that's right for you, and pay for once you want. Our team guarantees fast delivery of your subscribers, and all of them are real and active. So if you're looking to boost your channel, Upvotebro is the perfect solution.
3. Telegram subscribers from which countries can you provide?
Some of the best providers for subscribers are from countries like USA, England, Russia and India. A mix of countries is also popular, which creates the appearance of an international community. They have a large population of English speakers who are interested in Telegram, so you can be sure that your message will reach them.
4. What are the benefits of having a large Telegram channel?
Buying telegram members can help you build credibility. When people see that your group has numerous active users, they'll assume that it's important or influential. This can help you attract new customers, partners or investors.
5. How can I add 1000 people on Telegram channel?
Use Upvotebro.com which allows you to buy them. It can be the cheapest service to quickly and easily add members to your group.
6. How can I get fake members?
However, it's essential to be careful when choosing a service, as not all of them are legitimate.
Here are a few things to look for when choosing a service:
Search service that offers real followers, not bots.
Make sure the service has a good reputation and is known for providing high-quality targeted members.
Check to see if the followers are targeted to your specific audience.
Thus, you can take advantage of our offer, it's easy to get started. Just provide the necessary information and pay for the desired number of followers. Within minutes, you'll see your channel start to bulk!
7. What payment methods do you accept?
We accept payment in USDT, BNB, BUSD, ETH, BTC and other main ctypto blockchains.
8. Do you provide members for group by interest?
Yes, we do offer targeted telegram members for purchase by interest. We have a wide variety of them available, including topics like business, technology, cryptocurrency, and more.
9. Which Telegram subscribers are better online or offline?
The answer depends on what you're looking for. If you want people who will be active and engaged, then you should go with online members. If on the contrary, then you should go with offline once.
Popular Package for one channel – 3000
Approximate delivery of 1000 members – 3-6 hours
Check also – buy twitter followers and discord members